Posted by
suzieblahblah on 2009.08.01 at 21:34
TREBLE HAS AN INTERVIEW ON ICELANDIC TV. SILVIA NIGHT WALKS IN. MAGIC HAPPENS.


---
Posted by
renegade_raine on 2009.07.30 at 12:12
WHAT EUROVISION PERFORMANCE DOES EVERYONE THINK IS THE MOST WORTHY OF THE CAPSLOCK TITLE? ALTHOUGH IT'S HARD TO CHOOSE, BECAUSE THERE'S BEEN SO MANY SILLY ENTRIES, I'LL POST A COUPLE OF MY FAVORITES.
(
CLICK FOR THE SILLINESS!
Collapse
)
---
Posted by
the_crazy_pig on 2009.07.30 at 10:04
SO I THOUGHT WE SHOULD START THIS OFF WITH WHAT YOU GUYS THINK IS THE MOST CAPSLOCK WORTH PERFORMANCE OF EUROVISION! I WOULD CHOOSE MYSELF... BUT I REALLY CAN'T PICK ONE THING THAT I FIND MORE CAPSLOCKY THAN THE REST. SO INSTEAD I LEAVE YOU WITH THIS!
SAKIS ROUVAS IS REALLY
CAPTAIN HAMMER
!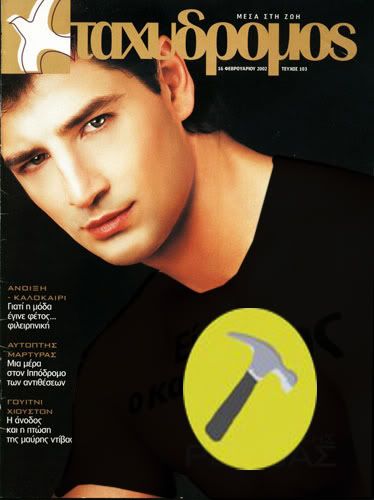 ---